David Calver, personal trainer
David Calver is a personal trainer at Bury St Edmunds Rugby Club, but is available for training either in the gym at the club, or in your own home. Wherever you want to workout, David will work around you.
David's approach as a personal trainer is to tailor the fitness workouts to suit your lifestyle; no two people have the same lifestyles so you need a personal training plan to suit you and your situation. As a Personal Trainer in Bury St Edmunds David has helped over 200 people to improve their fitness and change their physiques.
David Calver has worked as a personal trainer in Bury St Edmunds since 2006, but has had a passion for health and fitness since he first stepped into a gym as a tubby lad at the age of seventeen, and lost three stone with a sensible combination of diet an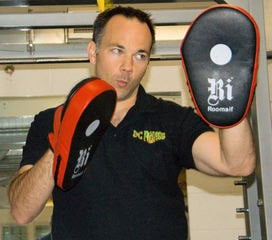 d exercise.
After seventeen years working in the music industry, David decided to retrain for a personal training diploma with Premier Global International. Since his career change David has helped many people to reach their health and fitness goals.
David worked at LA Fitness in Bury St Edmunds for four years from 2006 until 2010 and was regularly among the top ten personal trainers on the national trainer league. In 2010 David moved to the rugby club in Bury St Edmunds where he continues to train many of his clients. David also trains a number of clients in their own homes.
David lives in Ixworth with his wife Debbie and their two boys, Tom and Jamie.
Qualifications: Diploma in personal training, diploma in sports massage, certificate in resistance training, certificate in cardiovascular training, certificate in nutrition, Certificated ViPR Trainer
Recently David has been training local paralympian and handcyclist Brian Alldis and also the 2012 Intersteps Racing Driving and 2013 Formula Renault Champion and winner of the 2103 McClaren Autosport BRDC Award Matthew Parry , with fantastic results in both strength and speed.