Latest News and Articles
Matt Parry Wins British Karting Championship 2010
(October 27, 2010)
---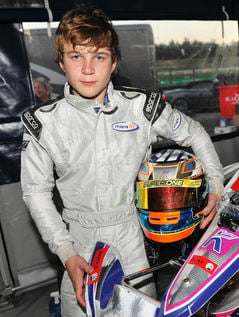 Matthew Parry confirmed his reputation as one of Britain's leading kart racers by claiming a second national title in two years, wrapping up the Super 1 British Junior Rotax crown in the final round at Three Sisters.
Having already posted the 2009 Formula Kart Stars crown on his résumé, the 15-year old was determined to go one better in Super 1, having finished as runner-up last season.
"It was difficult going into the weekend to find the balance between pushing hard as usual and making sure that I didn't do anything silly, but I had hoped to be fastest in qualifying so that I could keep myself out of trouble at the front," Parry admitted, "Starting back in the pack made things more difficult."
With a lead of 20 points going into the last weekend, a brace of sixth-place finishes confirmed Parry's position at the top of the standings, finishing with a 17-point advantage over his nearest rival.
Matt now heads off to the Rotax World Finals at La Conca in Italy in the middle of November. Having finished second in last year's event in Egypt, he will again hope to go one better to round out his karting career on a high
Matt has been tranining with David for over a year now, and will hopefully continue to do so as he moves on with his racing. Good Luck in Italy Matt.